CTAE Pathway Completion Graduation Rate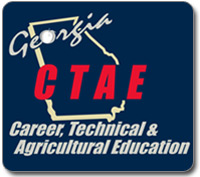 ---
MILLER COUNTY CTAE PATHWAY COMPLETER GRADUATION RATE IS 100 PERCENT FOR 2021 GRADUATES
Dr. Gail H. Lovering, Miller County CTAE Director
Miller County CTAE (Career, Technical, and Agricultural Education) pathway completers have something to boast about. Every single one of them received a diploma from Miller County in 2021. Our welding, business, healthcare and agriculture cluster programs provide students with the foundational career skills that will enable them to be successful as they transition from school to the world of work. We want students to graduate from high school with a realistic plan for the future that will allow them to become productive members of society. CTAE can motivate students to attend school more frequently, be more engaged in the classroom, improve core academic skills and above all STAY IN SCHOOL!!!
The rate of CTAE program completers who graduated on time was 100 percent. We are well above the state benchmark of 90 percent. After the State Department of Education finalized their data for the 2021 graduates it was determined that Miller County's CTAE Department's graduation rate was indeed 100 percent.
CTAE provides all Georgia students with the opportunity to select at least three sequenced electives in a Career Pathway, along with recommended academic coursework, and employability skills to prepare them to continue their education at any level or to enter the world of work. Students in Miller County can participate in four CTAE program concentrations; business, healthcare, welding and agriculture. Students may also participate in co-curricular Career and Technical Student Organizations (CTSOs) related to these program areas. In addition, students also receive "pathway seals" which are affixed to their diplomas.
Thank you to Miller County High School Principal Tommy Tabb; Superintendent Shane Miller; as well as the Miller County School Board Members for supporting our CTAE department and our efforts to improve employment opportunities for our high school students. Miller County academic teachers as well as our CTAE teachers are to be commended. Their hard work and dedication are evident in this statistic. Thank you CTAE teachers: Mandy Long, Jason Houston, & Taylor Mock, Agriculture; Peyton Payne, Welding; Sheila Anglin, Healthcare; and Martha Widner, Business; for your support for the students of Miller County. A job well done!