FFA Banquet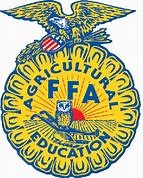 ---
The Annual Miller County FFA Banquet was held on May 12, 2022 at the Birdsong Event Center. The banquet is a time for the Miller County FFA Chapter to recognize its members' accomplishments. The banquet hall was decorated in the traditional Future Farmers of America (FFA) colors of Blue and Gold. The theme for this year's event, "Discovering the Magic of FFA."210 guests and members enjoyed the festivities.
The evening began with a short welcome from Taylor Mock, past president of Miller County FFA and the middle school FFA advisor. Ms. Mock then introduced the Miller Middle School Officer Team for 2021-22 as well as the 2021-22 Miller High Officer Team. Afterwards Graycee McNease, FFA President called the meeting to order and immediately requested the roll call of officers and members to begin. This opening ceremony entertained the crowd prior to the meal.
After roll call, Graycee McNease outlined the activities for the evening. A silent auction was held prior to the banquet and the winners were announced at the end.
This segment was followed by the meal. The invocation was offered by Chaplain Brody Kelley. The delicious buffet meal was smoked chicken and pork chops with all the trimmings. The meal was catered by Jerry's Country Meats in Arlington. A slide show of various FFA activities and memories were provided for the participants' viewing pleasure while eating. "Our Year in Review" was enjoyed by all.
After the meal, the special guests were recognized by Jada Cox and Dutch Pace.
The FFA officers for 2021-22 were the program masters of ceremony. The recognition segment of the program began with the announcement of the Greenhand, Chapter, State, and American degrees. Other recognitions such as Honorary Chapter Members, Proficiency and SAE awards were presented.
Six Greenhand degree recipients were recognized by chapter officers Emily Howell and Brody Kelley. They are: Brandon Riggins, Dawson Durden, Landon King, Tyler Thornton, Bailey Franklin, Teamber George, and Emily Howell. The star greenhand for this year is Tyler Thornton.
Graycee McNease recognized Chapter Degree Recipients. These members exhibited exemplary chapter involvement and hold the Greenhand degree. They are: Trace Bailey, Hayden Brunson, Felix Butler, Jada Cox, Landon Givens, Hattie Harrison, Jaicee Holley, Wyatt Horace, Brody Kelley, Dutch Pace, Emanuel Sanches, Devin Sheffield, Saige Sheffield, Raley Shores, Hunter Tabb, Cason Vickers, Madison Virgin, Mason Wilson, and Ashley Womack. These young people are active members of FFA and have mastered the creed.
Hattie Harrison then announced the American Degree recipient. This is the highest degree level a member can receive. Ty Long 2021 graduate of MCHS will receive his American Degree at the national convention to be held in Indianapolis, Indiana in October of this year. Congratulations to Ty.
Next a special recognition was undertaken. Brandan & Laura McNease and Jamie & Kimberly Howell were presented plaques for "their love and support over the years." Graycee McNease and Emily Howell made the presentations.
Ashley Womack recognized FFA members who attended FFA events outside of the chapter for this past year. FFA members were invited to serve as the National Courtesy Corp at this year's national convention in Indiana. Brody Kelley then recognized members who attended this year's state convention and those who attended the EXPO.
Next on the agenda was the presentation of the Career Development Events. These are contests where members compete using their skills learned and honed in agricultural education instruction. Emma Grace Donley, Creed Speaking; CC Crockett, Prepared Public Speaking; Jaylea Finch, FFA Quiz; Grayson Spence, Career Development Event. The team events included: Environmental Natural Resources and Meats Evaluation, Floral Design, Wildlife Management, Veterinary Science, Lawnmower Operations & Maintenance, Tractor Operations & Maintenance, Tool Identification, Livestock Judging, and Nursery & Landscape.
Proficiency Awards and SAE Awards were announced. Graycee McNease was recognized for Beef Proficiency, and Jada Cox for Swine Production.
Taylor Mock presented the Gretchen Rigsby Work Ethics awards which went to: Yaritza Auza, Wyatt Horace, Darby McCann, and Chase Durham.
Middle School Eager Beaver Awards went to: Talmage Crockett and Brianna Chinappi.
Seniors who have served in some type of FFA capacity for all four years of their high school career and have earned their State Degree were recognized. Recipients include: Omar Cruz, Chase Durham, Ethan Faircloth, Brock Godwin, Connor Horne, Emily Howell, Colin Jackson, Graycee McNease, Jennifer Morgan, Jaylin Morman, Ty Musgrove, Cole Outlaw, Callie Pickle, Dilliana Scott, Marshall Spence, and Shawn Spencer.
Graycee McNease introduced the Honorary Chapter Members for 2021-22. This is an honor bestowed on those who have assisted the Miller County FFA Chapter in various capacities. This year's honorees are Mandy C. Roland, Kathryn Crockett, Dr. Russ Henley, and Peyton & Lauren Payne. Congratulations to these new honorary members. This group was then inducted into membership.
Sandra East awarded the Jim East Memorial Scholarship to Graycee McNease. This scholarship is provided to a deserving Miller County High School senior who has demonstrated strong character and dedication to agricultural education and the FFA.
Buzz Grimsley presented the Billy Grimsley Scholarship to Emily Howell. A deserving student who plans to continue agricultural studies.
Southern Regional welding instructor, Peyton Payne, announced his senior pathway completers. They are all FFA members and have passed an end of pathway assessment. They are: Brock Godwin, Omar Cruz, Christopher Durham, and Samuel Spence.
The 2022-23 middle school and high school officers were introduced and sworn in. Hattie Harrison lead the attendees in the Pledge of Allegiance to the Flag of the United States of America. Following the Pledge, retiring officers presented their speeches. Graycee McNease adjourned the meeting.
To round out the meeting, FFA Alumni President Nick Rollins presented a moving address outlining how important leadership role models are to young people. Graycee McNease and Emily Howell were then inducted into the Miller County FFA Alumni Association. As graduating seniors, they also received the FFA quilt from Ms. Mandy Long.
Middle School Officer Team for 2021-22 are: Ryles McNease, President; Jack Mercer Hall, Vice President; Emma Grace Donley& Jalyk Finch, Secretary; Jaylea Finch, Reporter; Thomas Miller & Mary Vines Hall, Treasurer; Jackson Cofty & Harlowe Spence, Sentinel; Fletcher Long & Sutton Alday, Historian; Kadence Sexton, Parliamentarian; Colin Williams, Chaplain; and Kylie Brackin, Jillian Higginbothom, & CC Crocket, Student Advisors.
Middle School Officer Team for 2022-23 are: Jackson Cofty, President; Fletcher Long, Vice President; Harlowe Spence, Secretary; Mason Horne, Reporter; Mary Vines Hall, Treasurer; Reed McNease; Sentinel; Sutton Alday, Historian; Kadence Sexton, Parliamentarian; and Emma Peterson, Jillian Higginbothom, & Ashlyn Toliver, Student Advisors.
High School Officer Team for 2021-22 are: Graycee McNease, President; Grayson Spence, Vice President; Jada Cox, Secretary; Hattie Harrison, Reporter; Dutch Pace, Treasurer; Emily Howell, Historian; Ashley Womack, Sentinel; and Brody Kelley, Chaplain.
High School Officer Team for 2022-23 are: Hattie Harrison, President; Dutch Pace, Vice President; Jada Cox, Secretary; Colin Williams, Reporter; Jack Mercer Hall, Treasurer; Ryles McNease, Historian; Madison Cofty, Sentinel; Brody Kelley & Wyatt Horace Chaplain; Felix Butler & Talmage Crockett, Parliamentarian; and Emma Grace Donley & Yaritza Auza, Student Advisors.
Thank you to these young men and women who are the Future of American Agriculture. These productive young men and women learn everything from the way to correctly shake someone's hand, to accountability and commitment. All of these skills are learned through the experiences in FFA.
Appreciation goes to Ms. Mandy Long, Jason Houston, who are the FFA sponsors. A special thank you goes to Taylor Mock, and Peyton Payne who have worked tirelessly with the students and sponsors to make this year a success.
Contributors to the silent auction were: Dr. Robert Lane, QT Dog & Gun, Bradley Enfinger, Graycee McNease, Market on the Square, Keri & John Spence, Dees, Gray Kicklighter, Denise Webb, Trent & Jessica Harrison, Quail Country, Birdsong Peanut, Joel & Carla Alday, Laredo Grill, Millie's (Holt) Mercantile, Sun South, Tabatha Kelley, Food Mart, Mandy Cleveland Roland, Emily Howell, Elaine's, Edison Insurance, Mad Rose, Posey Patch, Krista Womack, and Laura & Brandon McNease.
To the parents and businesses who have given not only of their time but their monetary resources we extend a grateful thank you.